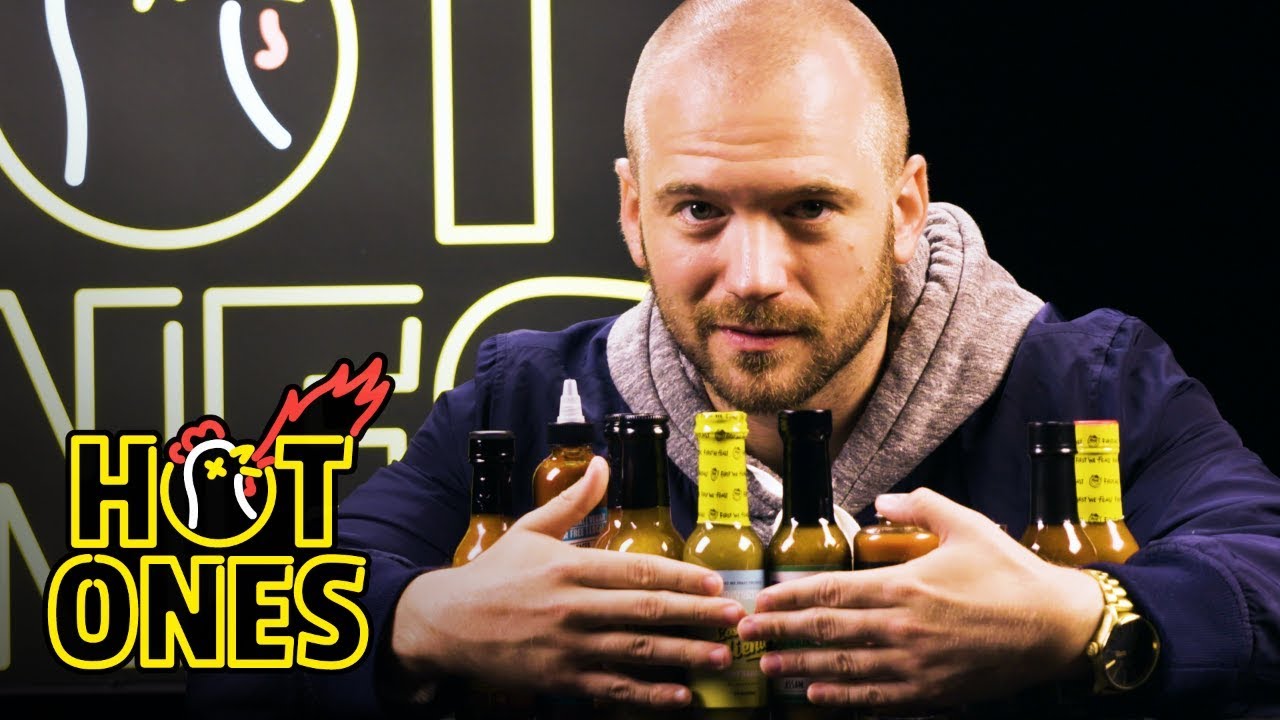 Hot Ones is a YouTube sensation that has taken the internet by storm. It is produced by First We Feast and Complex Media and is hosted by Sean Evans.
First debuting in March 2015 the show's format consists of host Sean Evans interviewing a celebrity guest while both eat 10 chicken wings, each served with a progressively hotter hot sauce and culminating in The Last Dab, a sauce produced by Hot Ones themselves with a Scoville rating of 2,000,000+ units. The Last Dab was developed by legendary chilehead Smokin' Ed Currie of PuckerButt Pepper Co., the creator of the infamous Carolina Reaper, the world's hottest pepper.
The show's tagline, stated by Evans at the beginning of each episode, is "The show with hot questions, and even hotter wings."
As of 19 February 2020 there have been eleven seasons of Hot Ones produced with a total of 176 episodes. In 2018 Hot Ones won Best Non-Fiction Series at the Streamy Awards and the episodes on YouTube have been viewed around 35 million times in total.
The Season 11 Lineup of Hot Ones hot sauces was announced by Sean Evans on 16 January 2020. The first episode of Hot Ones Season 11 was released on Thursday, 6 February with Margot Robbie as the celebrity guest.
Each season the lineup of hot sauces is changed with new sauces introduced, although some sauces have appeared in multiple seasons, notably Mad Dog 357, Blair's Mega Death Sauce, Da' Bomb Beyond Insanity and, of course, Hot Ones' own fiery creation The Last Dab.
You can check out all the Hot Ones episodes on YouTube here: Hot Ones on YouTube
Below we have assembled a complete list of all the hot sauces featured on Hot Ones, along with their rating in Scoville Heat Units (SHU). Many of these sauces are available for purchase at Sauce Mania.
Order a few of them today and see how you fare.
Hot Ones Hot Sauces Season One
Hot Ones Hot Sauces Season Two
| # | Hot Sauce | Scoville Rating (SHU) |
| --- | --- | --- |
| 1 | Sriracha Hot Sauce | 2,200 |
| 2 | Tapatío Hot Sauce | 3,000 |
| 3 | El Yucateco Chile Habanero Hot Sauce | 5,790 |
| 4 | Pain Is Good Batch #218 Louisiana Style Hot Sauce | 13,000 |
| 5 | Hot Ones Fiery Chipotle Hot Sauce | 15,600 |
| 6 | High River Sauces Rogue Hot Sauce | 34,000 |
| 7 | Pain 100% Hot Sauce | 40,600 |
| 8 | Da' Bomb Beyond Insanity Hot Sauce | 135,600 |
| 9 | Mad Dog 357 Hot Sauce | 357,000 |
| 10 | Blair's Mega Death Sauce | 550,000 |
Hot Ones Hot Sauces Season Three
| # | Hot Sauce | Scoville Rating (SHU) |
| --- | --- | --- |
| 1 | Huy Fong Sriracha Sauce | 2,200 |
| 2 | Tabasco Sauce | 4,000 |
| 3 | El Yucateco Chile Habanero Hot Sauce | 5,790 |
| 4 | Queen Majesty Red Habanero and Black Coffee Hot Sauce | 14,000 |
| 5 | Hot Ones Fiery Chipotle Hot Sauce | 15,600 |
| 6 | Bravado Spice Company Ghost Pepper and Blueberry Hot Sauce | 28,000 |
| 7 | Zombie Apocalypse Ghost Chili Sauce | 100,00 |
| 8 | Da' Bomb Beyond Insanity Hot Sauce | 135,600 |
| 9 | Mad Dog 357 Hot Sauce | 357,000 |
| 10 | Blair's Mega Death Sauce | 550,000 |
Hot Ones Hot Sauces Season Four
| # | Hot Sauce | Scoville Rating (SHU) |
| --- | --- | --- |
| 1 | Valentina Black Label Hot Sauce | 2,100 |
| 2 | Crystal Hot Sauce | 3,000 |
| 3 | Secret Aardvark Habanero Hot Sauce | 5,000 |
| 4 | Queen Majesty Scotch Bonnet and Ginger Hot Sauce | 9,000 |
| 5 | Hot Ones Fiery Chipotle Hot Sauce | 15,600 |
| 6 | Dirty Dick's Hot Pepper Sauce With a Tropical Twist | 21,000 |
| 7 | Zombie Apocalypse Ghost Chili Sauce | 100,000 |
| 8 | Da' Bomb Beyond Insanity Hot Sauce | 135,600 |
| 9 | Blair's Mega Death Sauce | 550,000 |
| 10 | Hot Ones The Last Dab Hot Sauce | 1,000,000+ |
Hot Ones Hot Sauces Season Five
| # | Hot Sauce | Scoville Rating (SHU) |
| --- | --- | --- |
| 1 | Humble House Ancho & Morita Hot Sauce | 450 |
| 2 | Original Louisiana Hot Sauce | 550 |
| 3 | Small Axe Peppers The Bronx Greenmarket Hot Sauce | 5,500 |
| 4 | Hot Ones Fiery Chipotle Hot Sauce | 15,600 |
| 5 | Adoboloco Hawaiian Hot Sauce Hamajang Kiawe Smoked Ghost Pepper | 32,000 |
| 6 | Karma Sauce Extreme Karma Hot Sauce | 56,000 |
| 7 | Dawson's Original Hot Sauce | 82,000 |
| 8 | Da' Bomb Beyond Insanity Hot Sauce | 135,600 |
| 9 | Mad Dog 357 Hot Sauce - 25th Anniversary Edition | 1,000,000 |
| 10 | Hot Ones The Last Dab Hot Sauce | 2,000,000+ |
Hot Ones Hot Sauces Season Six
| # | Hot Sauce | Scoville Rating (SHU) |
| --- | --- | --- |
| 1 | Howler Monkey Original Hot Sauce | 600 |
| 2 | Heartbeat Hot Sauce Red Habanero Hot Sauce | 4,000 |
| 3 | Pirate's Lantern Pepper Sauce | 7,500 |
| 4 | Torchbearer Son of Zombie Wing Sauce | 24,000 |
| 5 | Hot Ones Los Calientes Hot Sauce | 36,000 |
| 6 | Bravado Spice Company Black Garlic Carolina Reaper Hot Sauce | 71,000 |
| 7 | Bunsters Black Label Hot Sauce | 99,000 |
| 8 | Da' Bomb Beyond Insanity Hot Sauce | 135,600 |
| 9 | Hellfire Fiery Fool Hot Sauce | 550,000 |
| 10 | Hot Ones The Last Dab Reduxx | 2,000,000+ |
Hot Ones Hot Sauces Season Seven
| # | Hot Sauce | Scoville Rating (SHU) |
| --- | --- | --- |
| 1 | Hot Ones The Classic Hot Sauce | 1,800 |
| 2 | Humble House Guajillo & Red Jalapeno Hot Sauce | 2,100 |
| 3 | Butterfly Bakery of Vermont Maple Wood Smoked Onion Hot Sauce | 7,900 |
| 4 | Small Axe Peppers Habanero Mango Hot Sauce | 22,500 |
| 5 | Hot Ones Los Calientes Hot Sauce | 36,000 |
| 6 | Clark and Hopkins Assam Hot Sauce | 55,000 |
| 7 | Culley's Fire Water Hot Sauce | 112,000 |
| 8 | Da' Bomb Beyond Insanity Hot Sauce | 135,600 |
| 9 | Burns & McCoy Exhorresco Hot Sauce | 625,000 |
| 10 | Hot Ones The Last Dab Reduxx | 2,000,000+ |
Hot Ones Hot Sauces Season Eight
| # | Hot Sauce | Scoville Rating (SHU) |
| --- | --- | --- |
| 1 | Hot Ones The Classic Hot Sauce | 1,800 |
| 2 | Angry Goat Hippy Dippy Green Hot Sauce | 2,300 |
| 3 | Paddy O's Potion Hot Sauce | 8,800 |
| 4 | High River Sauces Cheeba Gold Hot Sauce | 25,300 |
| 5 | Hot Ones Los Calientes Hot Sauce | 36,000 |
| 6 | Adoboloco Kolohe Kid Hot Sauce | 61,000 |
| 7 | Torchbearer Garlic Reaper Hot Sauce | 116,000 |
| 8 | Da' Bomb Beyond Insanity Hot Sauce | 135,600 |
| 9 | Hellfire Fear This Hot Sauce | 679,000 |
| 10 | Hot Ones The Last Dab Reduxx | 2,000,000+ |
Hot Ones Hot Sauces Season Nine
| # | Hot Sauce | Scoville Rating (SHU) |
| --- | --- | --- |
| 1 | Hot Ones The Classic Hot Sauce | 1,800 |
| 2 | Sauce Bae Skinny Habanero Hot Sauce | 2,500 |
| 3 | Shaquanda's Hot Pepper Sauce | 10,100 |
| 4 | Lucky Dog Year of The Dog Thai Chile Pineapple Hot Sauce | 29,800 |
| 5 | Hot Ones Los Calientes Hot Sauce | 36,000 |
| 6 | Hellfire Detroit Habanero Hot Sauce | 66,000 |
| 7 | Wiltshire Chilli Farm Trinidad Scorpion Hot Sauce | 104,000 |
| 8 | Da' Bomb Beyond Insanity Hot Sauce | 135,600 |
| 9 | Puckerbutt Chocolate Plague Hot Sauce | 690,000 |
| 10 | Hot Ones The Last Dab Reduxx | 2,000,000+ |
Hot Ones Hot Sauces Season Ten
| # | Hot Sauce | Scoville Rating (SHU) |
| --- | --- | --- |
| 1 | Hot Ones The Classic Hot Sauce | 1,800 |
| 2 | Small Axe Peppers The Chicago Red Hot Jalapeno Hot Sauce | 2.800 |
| 3 | Heartbeat Pineapple Habanero Hot Sauce | 12,200 |
| 4 | Hot Ones Los Calientes Hot Sauce | 36,000 |
| 5 | Torchbearer Headless Horseradish Hot Sauce | 52,000 |
| 6 | Adoboloco Fiya! Fiya! Hot Sauce | 77,000 |
| 7 | Bravado Spice Company Aka Miso Ghost-Reaper Hot Sauce | 116,000 |
| 8 | Da' Bomb Beyond Insanity Hot Sauce | 135,600 |
| 9 | Karma Sauce Burn After Eating Hot Sauce | 669,000 |
| 10 | Hot Ones The Last Dab XXX Hot Sauce | 2,000,000+ |
Hot Ones Hot Sauces Season Eleven
| # | Hot Sauce | Scoville Rating (SHU) |
| --- | --- | --- |
| 1 | Hot Ones The Classic Hot Sauce | 1,800 |
| 2 | Cantina Royal Tamaulipeka Hot Sauce | 4,200 |
| 3 | Fiji Fire Native Bongo Chilli Hot Sauce | 14,300 |
| 4 | Double Take Salsa Co. Scotch Bonnet Mustard Hot Sauce | 37,000 |
| 5 | Hot Ones Los Calientes Rojo Hot Sauce | 49,000 |
| 6 | Seed Ranch Flavor Co. Hot Thai Green Hot Sauce | 74,000 |
| 7 | Pepper North Stargazer Hot Sauce | 118,000 |
| 8 | Da' Bomb Beyond Insanity Hot Sauce | 135,600 |
| 9 | Dingo Sauce Co. Widow Maker Hot Sauce | 682,000 |
| 10 | Hot Ones The Last Dab XXX Hot Sauce | 2,000,000+ |
Last Updated on by Sauce Mania