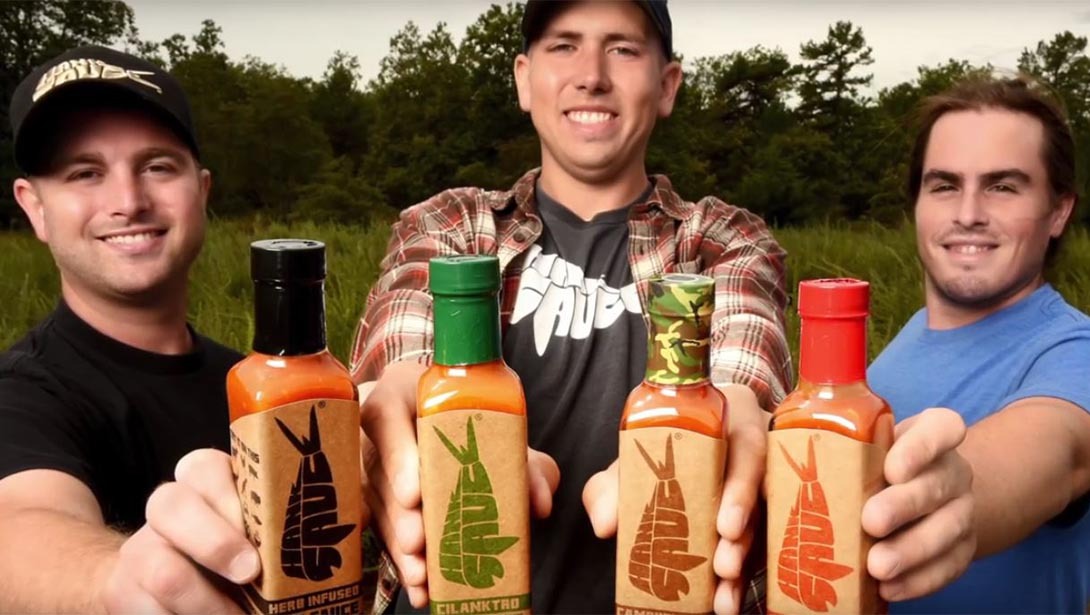 Brian "Hank" Ruxton was only a teenager when he first started picking vegetables from his father's backyard garden in Sea Isle City, New Jersey to create his homemade hot sauce.
Little did Hank know that his humble homemade hot sauce would eventually form the foundation of a booming business that would see Hank Sauce sauces stocked in over 650 stores across the nation.
Things slowly began to take shape when Hank joined forces with two friends, Matt Pittaluga and Josh Jaspan, when they were students at Flagler College in St. Augustine, Florida. The three were roommates when Hank started making his home made hot sauce for them.
As part of a college graphic design project, Matt created the distinctive Hank Sauce logo and label for the square-shaped bottle that the brand would become known for. Hank Sauce was officially born.
Following college the three friends returned to the Sea Isle City area and began selling Hank Sauce to retail outlets and at South Jersey Farmer's Markets. Finding success, it wasn't long before they decided to use the profits from their early sauce sales to open Hank Sauce restaurant, a casual eatery on Landis Avenue in the Sea Isle City Inlet district that sold burgers, wings, tacos… and Hank Sauce.
Sales of Hank Sauce continued to grow as the brand gained notoriety and it soon became clear to the three friends turned business partners that if they were to keep up with the ever increasing sales of Hank Sauce they would need to find a place that enabled them to increase production.
In November 2016 Hank Sauce opened a 10,000-square-foot production and packaging facility in Millville, New Jersey, that enabled them to boost production to meet the growing demand for their unique sauces.
The three friends have combined their unique individual talents and strengths to build the Hank Sauce brand and business. Ruxton is an experienced chef and oversees sauce production and the Hank Sauce restaurant operations. Pittaluga is focused on marketing and social media to promote Hank Sauce and raise awareness of the brand, while Jaspan – a business major at college – has assumed the role of Hank Sauce's chief operating officer and is responsible for the day-to-day business operations of the company.
Hank believes that the secret of Hank Sauce's success is the fresh ingredients that are used to make it. The sauces won't burn a hole in your tongue, but you may find yourself burning through the bottle very quickly as Hank Sauce is focused on flavour, not fire. Each of the five regular flavours, Camouflage, Cilanktro, Hank's Heat, Herb Infused and Honey Habanero are designed to complement and enhance the flavour of your food, not overpower it.
So delight your taste buds and give Hank Sauce a try. At Sauce Mania we stock them all but can't guarantee that there will always be stock available due to their popularity. Order today to avoid disappointment.