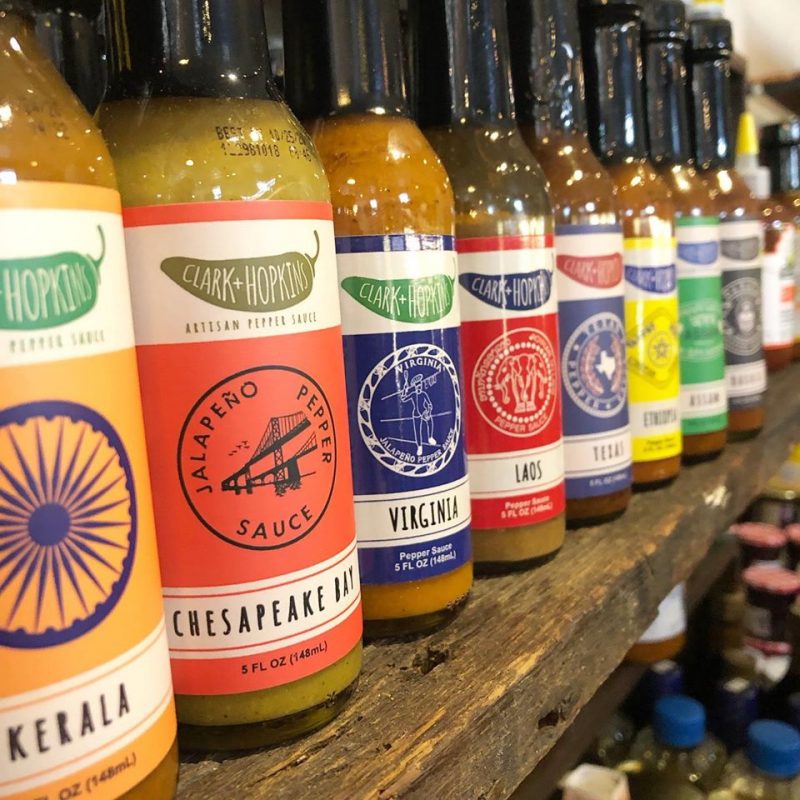 Clark & Hopkins is hands down one of the most unique hot sauce companies out there, and their amazing sauces are equally as unique. Unlike most hot sauce companies, which produce hot sauces containing mostly predictable flavour profiles, Clark & Hopkins have a purpose unlike any of the others: to showcase the regional flavours of the world and bring them to you in bottles of unrivalled deliciousness.
When real estate agent and former culinary graduate Brandon Clark asked a Kerala, India born tennis friend what hot sauces were made in that part of the world, he was surprised to hear that there were none. The friend then challenged Brandon to create a hot sauce using the unique flavours of the Indian state of Kerala. Brandon accepted the challenge and, after doing a lot of research, created a sauce using habanero peppers, jalapeños, onion, ginger, garlic, tamarind, coriander, coconut, turmeric, cumin, cinnamon and other spices. He brought his new sauce creation back to his friend, who said it "tasted like home".
Inspired, Brandon teamed up with another tennis friend, Don Hopkins, and began to research other regional areas of the world that are not known for producing hot sauces. He started at home, in Virginia, which did not produce any hot sauces and created a jalapeño pepper sauce with a cider vinegar base featuring a Chesapeake dry rub of his own creation. It also included celery seed, dry mustard, cayenne, turmeric, ginger, cinnamon, nutmeg and bay leaf. He named it Chesapeake Bay after the famous mid-Atlantic estuary best known for its seafood production.
After Kerala and Chesapeake Bay came Laos, Virginia, Texas, Ethiopia, and then Oaxaca and Quintana Roo; both named after the Mexican states they are inspired by. Finally came Assam, a delicious journey through the tastes of Northern India using the region's native Ghost Pepper (Bhut Jolokia), tomatoes, onion, garlic, ginger, tamarind, black mustard seed and a variety of other spices. Assam was featured on Season 7 of Hot Ones and received the 2019 Sofi Award for world's best new hot sauce by the Specialty Food Association. It has become their most popular sauce to date.
Clark & Hopkins range of hot sauces will take you on an international tour of some of the world's most exciting and diverse culinary regions. All of their small batch hot sauces capture the essence of each region by using native peppers and ingredients, and are lovingly crafted to focus primarily on flavour and spice.
Brandon is proud that there is no other company doing what they are doing. He points out that Clark & Hopkins sauces are more culinary sauces than hot sauces because you can cook with them. They are also 100% all natural, gluten free and vegan (except for Laos which has dried shrimp).
Those in Australia can easily enjoy Clark & Hopkins' range of unique artisan pepper sauces for themselves by purchasing them here at Sauce Mania. If you like rich flavour, complex spice, and satisfying heat, we think you are going to absolutely love these sauces. Why not pick up a few today?