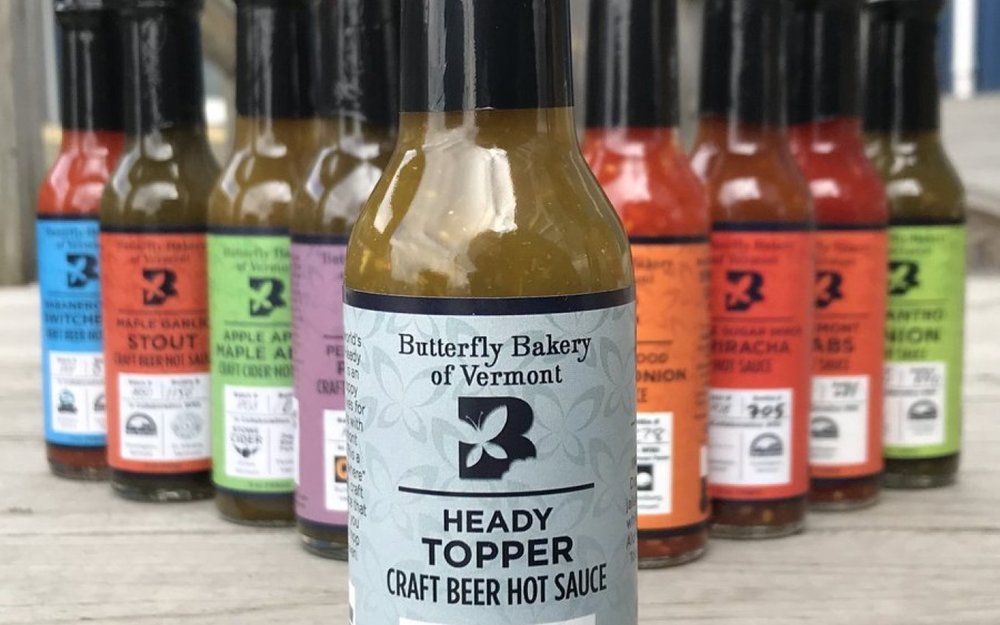 Butterfly Bakery of Vermont was established by Claire Georges in 2003 as a part time venture baking cookies after hours for local businesses. In the years that followed the business slowly grew as demand for her baked goods increased and it was eventually necessary to find a permanent home for the business. In 2007 Claire moved into premises on Barre Street in Montpelier, Vermont.
Eventually, marriage and children caused Claire to reassess her priorities. In 2014, with financial pressures building, she decided to expand the business further by hiring an employee and growing her tiny hot sauce side business into an enterprise that would bring in enough revenue to keep the wolf from the door.
Claire had been experimenting with chili peppers since 2011 and had developed what she thought were some very tasty hot sauces. She realised very quickly that in order to create a delicious hot sauce she had to first start with fresh, delicious ingredients. Rather than buy her peppers on the commodity market, Claire waited all summer for the tasty local peppers to be grown, in whatever quantity that ended up being.
With her popular hot sauces flying out the door at an ever increasing rate, Claire found that she was unable to produce enough hot sauce to keep up with customer demand. So in 2015 she contracted with some of her favourite local chili growers for almost 500 kilograms of their finest chili peppers and started making preparations for a big hot sauce year.
As the 2015 sauces were being produced and batches of hot sauces were going out the door to distributors, Claire realised that even 500 kilograms of chili peppers just wasn't going to be enough to satisfy the ever growing demand. Thankfully it had been a good chili growing season in Vermont that year and they were able to acquire another 1,200 kilograms of locally grown chili peppers.
But demand for Butterfly Bakery of Vermont hot sauces just kept on growing. Hot sauce lovers across the country just couldn't get enough of their unique gourmet flavours and small batch taste. In 2016, Claire ordered 2,500 kilograms of chili peppers but ended up using 3,000 kilograms. A year later and their order had grown again, this time to 5,000 kilograms.
Claire believes the secret to her success is her commitment to slow, sustainable growth using only local ingredients, because she wants to own the kind of company that she would want to work for, and buy from. All of Butterfly Bakery of Vermont's chili peppers and maple syrup are bought directly from small-scale Vermont farmers.
In 2018, Butterfly Bakery of Vermont's Maple Wood Smoked Onion Hot Sauce was featured on Season 7 of First We Feast's popular YouTube series Hot Ones. This was yet another feather in their cap which also succeeded in bringing their sauces even more exposure and introducing them to a new audience of hot sauce lovers around the world.
At Sauce Mania, we stock the nine "big" flavour hot sauces produced by Butterfly Bakery of Vermont, making it easy for you to try them yourself. If you haven't tasted any of these amazing hot sauces yet, pick up a bottle or three today. They are simply delicious.
Choose from Heady Topper, Maple Rum Chipotle, Vienna Beer Mustard, Habanero Lime Switchback, Cilantro Onion, Peppercorn Porter, Maple Sugar Shack Sriracha, Vermont Habs and Smoked Onion.